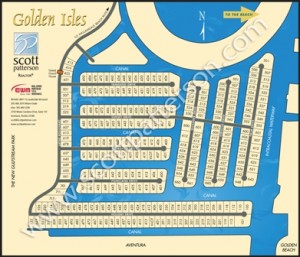 Golden Isles in Hallandale Florida is a gated deep waterfront single family home community with ocean access and no fixed bridges. There are approximately 304 properties within the gates of this Broward County community with 99% of the properties on the water and only 5 homes on dry lots. A few great notable points of Golden Isles are: it's a protected waterfront community (protection for your vessel during storms and high winds), all of the canals are wide and deep enough for about any vessel that can be moored on any of its lots, ocean access is just 15 minutes away to the south at The Haulover Inlet and 45 minutes to Port Everglades Inlet to the north.
Golden Isles is right on the Broward/Miami-Dade County line and right across from Golden Beach Florida.  As home prices in Golden Beach soar, Golden Isles has become more attractive although it might not be as exclusive or have the name recognition of Golden Beach.
As a boat owner, one of the advantages of Golden Isles is that like I said it's on deep water allowing for larger boats unlike Golden Beach which has numerous of its waterfront properties sitting on very shallow water and does not allow for boats that draw as little as 4 feet.
In my opinion, Golden Isles is one of  South Florida's premier deep waterfront communities whether you just want to live on the water, are a boat owner or both. Golden Isles is minutes from Aventura, Bal Harbour and the Hollywood-Fort Lauderdale International Airport, right in the center of both Market's of Miami-Dade & Fort Lauderdale.