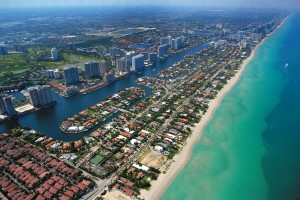 Recently Plum TV and Zakarin Martinez Public Relations partnered with the town of Golden Beach to create an upcoming documentary about living in the South Florida community.
Continue reading to learn more about this informative documentary as well as what Golden Beach has to offer to interested South Florida home buyers.
Investing in Golden Beach Real Estate
As part of the upcoming Golden Beach documentary, Mayor Glenn Singer and Town Manager Alexander Diaz were interviewed in a number of iconic places around town.
The documentary, will aim to showcase the South Florida lifestyle, particularly in the town of Golden Beach.
It is also expected to show historical images from Golden Beach that have rarely been seen by the public.
I will keep you posted one's the documentary air's.
This unqiue community, which is located on the Miami-Dade and Broward County lines, offers residents picturesque views of the Atlantic Ocean to the East and the Intracoastal Waterway to the West.
It also provides its residents with easy access to several regional attractions and amenities, including:
Miami International Airport and Ft. Lauderdale International, which are just 18 and 15 miles away respectively
Three lushly landscaped Golden Beach parks – complete with such amenities as tennis courts, a basketball court and a children's playground.
All the unique dining and shopping venues of Aventura, Sunny Isles and Hollywood.
And more!
If you're interested in learning more about what makes living in Golden Beach, Florida so special, then contact me, Scott Patterson.
As your South Florida real estate expert, I'll let you know about available listings in Golden Beach as well as answer any questions you might have.
In the meantime, feel free to also check out some of my helpful Golden Beach home buying resources, which include:
Until next time,