The Golden Beach Pavilion project has been completed.  The Pavilion is a focal point of the town and is only for the use of Golden Beach residents.  Among the renovations to the revamped Pavilion are wireless internet access, new furniture, renovated restrooms, landscaping to the parking lot and a new facade.  Total renovation costs are estimated around $700,000.00.  The Grand Opening was held this past Sunday September 14, 2008.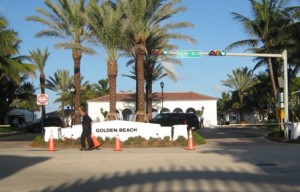 Golden Beach Residents Have Access To A Private Beach
The Beach Pavilion can be reserved by residents for parties or special occasions and is located at the Strand and Ocean Boulevard.  The community of Golden Beach is one of the only ones to offer it's residents and registered guests access to a private beach.  Many of the Golden Beach properties are located on the intracoastal and it's waterways or directly on the Atlantic Ocean.