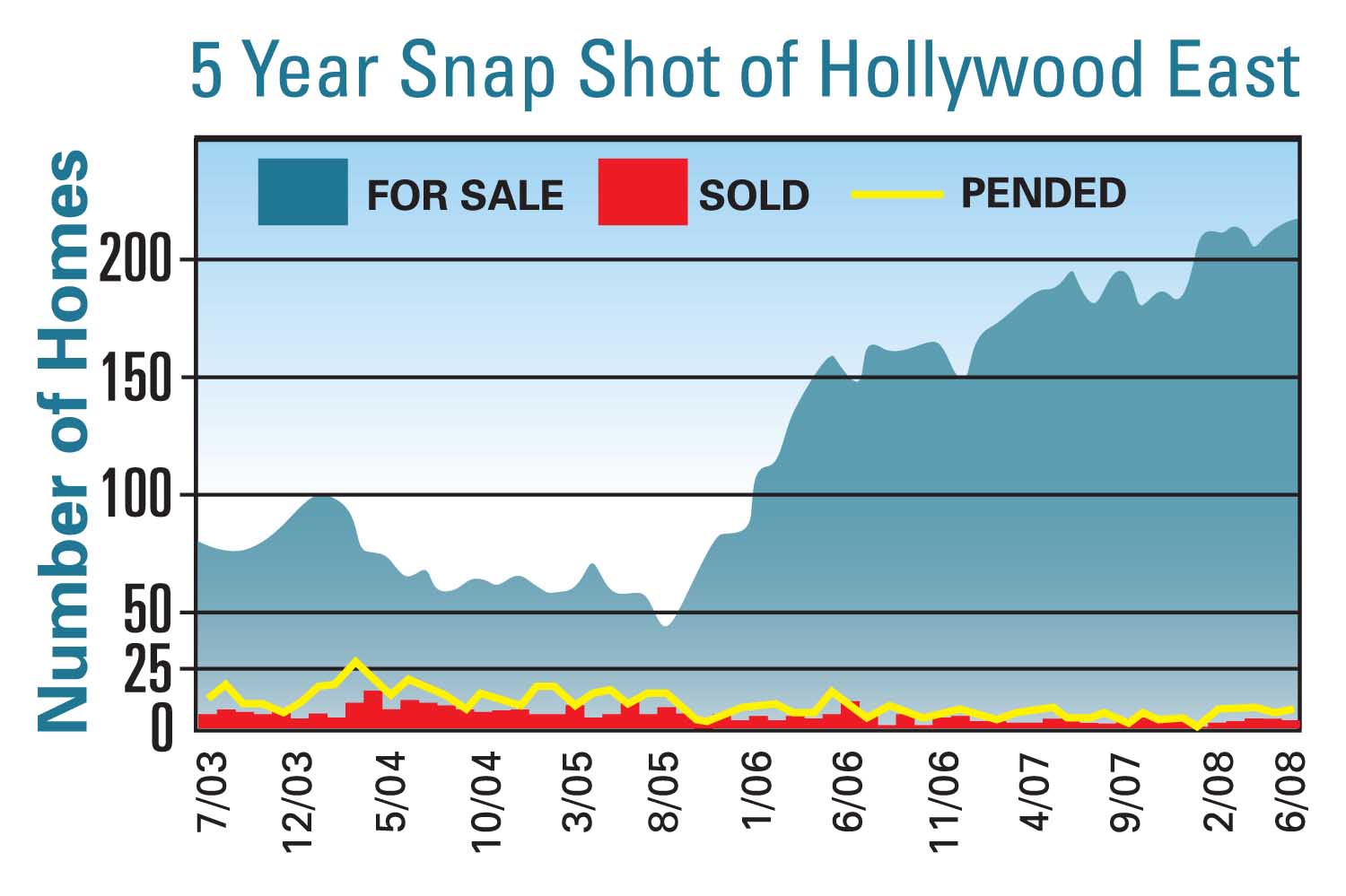 In order to assist both Buyers and Sellers in better understanding the South Florida real estate market and precisely Hollywood East including "Hollywood Lakes" I have provided a "Supply and Demand" graph of the past 5 years. The peak of the market was April 2005 when there was hardly any inventory and tons of sales creating what is called a "Sellers Market", we had approximately as little as 2 months supply of single family homes in both Broward and Miami-Dade Counties.
If we were to graph different areas throughout South Florida they would all look very similar to this graph with the exception of the "Condo Market" which is dramatically different. Although often grouped together the "Condo Market" and the "Single Family Home" market are "Apples and Oranges". The "Single Family Home" "Waterfront Market" is in much better shape than any other sector of the real estate market. Sellers were in the drivers seat for a very long time but today the Buyers have much of the control due to the abundance of inventory and especially International Buyers that are also taking advantage of the weak dollar.
Many of the single family home markets have anywhere from 20 to 50 months supply of inventory and some of the condo markets have up to 90 months supply, depending on the location, price range and even the development. To give you an idea of what is a "Healthy Market", we need no more than 6 to 12 months supply, below 6 months supply is a "Sellers Market" and above 12 months supply is a "Buyers Market".
I could talk about supply & demand and the whole real estate market forever but let's all be thankful we are selling and/or owning properties in South Florida (Hollywood, Golden Isles, Aventura and Golden Beach) where we have one of the largest concentration & influence of international Buyers in the US. The Aventura Mall is now one of the top grossing malls in the country mainly due to "International" shoppers. My sales so far this year are up 22% over last year, I contribute this directly to South Florida being the place the world wants to be.