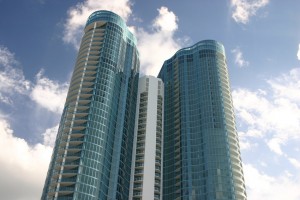 An interesting trend has happened recently on the South Florida real estate market. Evidently, condo developers have been enthusiastically proposing new projects lately, proposing an average of almost 1,000 new units monthly for the tri-county coastal region since October 2012.
This is not only a sign that developers are feeling optimistic about the economy but also a sign that there's about to be some incredible new real estate available in South Florida!
Real Estate for Sale in South Florida
According to the recent article I was reading in The Miami Herald, it has only taken roughly 10 months for developers to propose 20,000 new units in Miami Dade, Broward and Palm Beach counties.
Here's what else the recent article revealed:
Since the fourth quarter of 2012, developers announced nearly 90 new buildings with a combined 9,500 units in South Florida.
At least three additional condo high rises with an estimated 1,200 units in the planning stages.
All put together, South Florida could ave at least 145 towers and nearly 20,700 units proposed for Miami-Dade, Broward, and Palm Beach counties.
The last South Florida condo boom of this magnitude started in 2003 and ultimately resulted in 245 towers and almost 49,000 units in the region.
Miami-Dade County has the largest concentration of proposed projects with more than 90 towers and nearly 15,285 units planned.
Broward County has 26 towers and less than 2,125 units proposed.
Palm Beach County is a third with 23 towers and nearly 2,100 units proposed.
Broken down further, the Hollywood and Hallandale Beach market in Southeast Broward County has proposed 11 towers with nearly 1,450 condo units.
Sunny Isles Beach on the barrier island in Northeast Miami-Dade County has proposed 10 towers and nearly 1,200 units slated to be developed.
 West Palm Beach has proposed seven towers and nearly 1,170 units
The city of Miami Beach has proposed with 17 towers and nearly 1,100 units.
And Bal Harbour, Surfside, and Bay Harbor Islands market in Northeast Miami-Dade County have proposed 14 condo towers with nearly 1,000 units.
Part of the reason that developers are moving so fast to develop new condos is because the inventory of available condo buildings is dwindling fast.
Experts predict that the current supply of existing condos for sale could be exhausted by the second half of 2014.
Some of the projects that developers are proposing include:
A 713-foot-tall tower with at least 60 stories at 600 Biscayne Blvd.
A 710-foot-tall tower with at least 60 stories at 700 Biscayne Blvd
A 610-foot-tall tower with 55 stories at 24 SW 4th St. on the north bank of the Miami River.
Still, despite all this talk about new South Florida developments, these companies have a large hurdle to overcome first: getting loans from the banks, which have tightened their lending policies in recent years.
That's why experts believe that it is those developers who can drum up sufficient support from would-be condo buyers that will ultimately find success on the South Florida real estate market.
South Florida Condos for Sale
What do you think of the recent flurry of activity on the South Florida condo market? I would love to hear your thoughts!
In the meantime, if you're thinking about investing in a South Florida condo, please contact me, Scott Patterson.
I'll be happy to assist you by letting you know about available condos for sale, answering any questions you may have as well as telling you about nearby condo communities in such communities as:
Aventura, Florida
Hallandale, Florida
Davie, Florida
Until next time,
Scott